How do we raise the money needed to deliver life changing training projects?
Tools for Self Reliance is a charity and relies on the generosity of our supporters to continue our work. We don't receive Government support, so all money is donated voluntarily.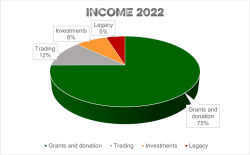 Our money comes from:
grant making trusts
our volunteer fundraisers
from local community groups and schools
from you – the individuals who want to make an investment in reducing poverty.
We are very grateful for the support that we receive, and we work hard to communicate this to our supporters. It's important to us that we carry out our fundraising in a responsible and ethical way. You can read our  Fundraising pledge here.
There are so many ways that you can change the lives of people in some of the poorest communities in Africa, empowering them with the skills and equipment to change their lives. You could make a donation, leave a gift in your Will, support us with tools, give your time as a volunteer, come along to one of our events, or host a Tea for Tools party.
Your donation doesn't just make a material difference – earning an income gives people a sense of pride and dignity. Peter Rukiramahe trained as a builder with Tools for Self Reliance. He told us being able to support himself makes him feel like a different person.
"I can now hold my head high within the community, and some of the younger boys look up to me and ask me advice."