Donate tools at Netley Marsh
To help us manage and process incoming donations, please bring your tools, sewing machines, haberdashery items and ply wood only on a Monday and Tuesday, between 10am – 4pm.
If you are making a special trip, or travelling a long distance, please give us a call first on 02380 869697.
Tools for Self Reliance
Ringwood Road
Netley Marsh
Southampton
SO40 7GY
Donate tools in your area
You don't have to live in the Southampton area to donate your preloved tools!  We have a network of volunteers around the UK who act as collection points for donated tools and sewing machines.  Collectors pass donated items to us directly, or make them available to our regional refurbishing groups, who pass them on to us in turn.
To find a volunteer collector or a refurbishing group in your area, please call us on 02380 869697 and we will put you in touch with your nearest contacts.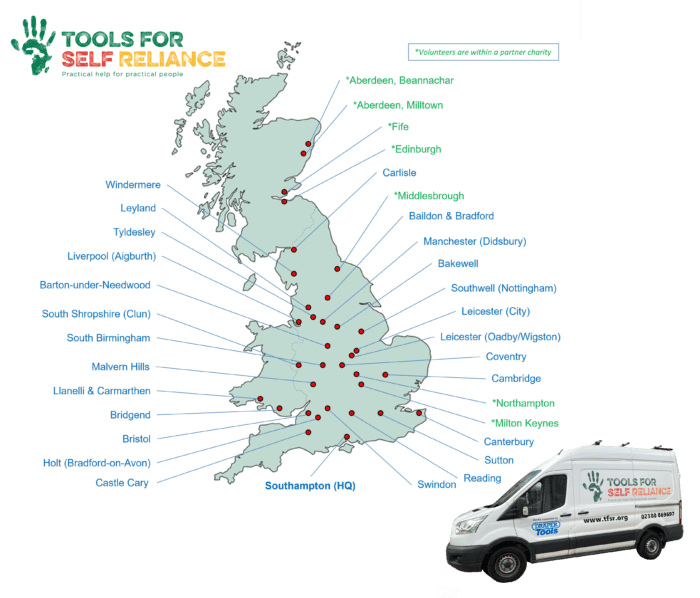 Tools for Africa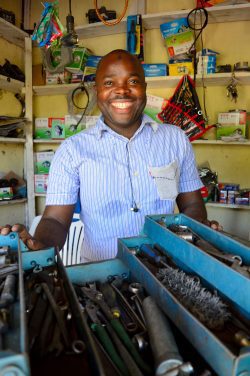 We send tools to Africa in response to specific requests from our project partners in our destination countries.  Our partners tell us what types of tools they need, and the trades which are in demand.  So we only need certain types of tools.
The tools we send overseas will be used to help people earn a living, so they need to be good quality and in good working order.
Please take a look at our guides below for details of all the items we can use.
What tools do we need?
Any good quality hand tools (NB tools must be metric or with both metric and imperial measurements) or trade quality 240v electric tools for:
carpenters
builders
metalworkers
shoe repairers
mechanics
plumbers
electricians
dressmaking materials and haberdashery
hand operated and treadle machines
some electric sewing machines, must be in good working order
overlockers
Items we don't need
battery operated cordless, 110v or domestic quality mains power tools
computers or other electronic equipment
typewriters and duplicators
low quality / disposable tools eg hardpoint saws
machinery (except by special arrangement)
imperial rules / measures
nails, screws, nuts and bolts
paints, oils, chemicals
gas bottles
two man saws
Hand Tools
We are really short of old leatherworking tools like lasting pliers, leather knives and leather punches.  We are also very short of welding clamps and piston ring compressors.  Generally, older hand tools such as sharpen-able saws, planes, screwdrivers, socket sets (metric),
spanners (metric), bench vices, engineers vices, hacksaws, etc, can all be put to good use.  Particularly larger planes such as Stanley & Record No. 7 & 8 jointer planes are somewhat rare.
Power Tools
We can accept any of the following power tools:
AEG
Bosch
Clarke
DeWalt
Dremel
Elektra Beckum
Erbauer
Fein
Ferm
Festool
Hilti
Hitachi
Kress
Macallister
Makita
Metabo
Millwaukee
Paslode
Ryobi
Sealey
Spit
Titan
Trend
Please download our guide to other brand specific power tools that we can and cannot accept. Power Tools Guidelines
Manual Sewing Machines
We can accept any Singer manual sewing machines – including those housed within treadle base assemblies.
If they have had electric motors added this is still acceptable.
Electric Sewing Machines
We take any model from the following manufacturers only:
Bernina
Brother
Elna
Frister & Rossmann
Janome
Jones
New Home
Novum
Pfaff
Singer
Toyota
Sewing machines need to be in working order.  Please be careful when checking your machine – just because it works does not mean it is safe to use.
Zig-Zag/Straight Stitch – We send Zig-Zag machines to Africa, however will take Straight Stitch machines as we can use these for spare parts or to sell if possible to raise funds for the charity.
Foot pedals – Wherever possible, please make sure foot pedals are secured to their machines (e.g. using cable ties) as they can become separated and lost in transit.  It can be difficult to find a replacement foot pedal with the appropriate plug that matches the machine.
Haberdashery
Haberdashery kits are sent to participants in the vocational training projects we fund and equip in Africa.  The kits are sent alongside electric and hand sewing machines and fabric.
Materials are available in Africa so these haberdashery kits are intended as a start-up kit for each trainee, helping them to earn money once they graduate, to then purchase more materials as needed.
Listed below are the items we are most in need of to make our haberdashery kits.
Knitting patterns
Sewing patterns
New / unused zips
Knitting needles
Crochet hooks
Knitting yarn / wool
Crochet yarn / wool
Scissors
Sewing thread
Sewing needles
Pins
Thimbles
Tape measures
Safety pins
Fasteners / press studs / hooks and eyes
Stiffeners / vilene / petersham
Trim / lace / rickrack, etc
Tailors chalk
Seam rippers
Buckles
Button sets
Seam and bias binding
Ribbon
Embroidery thread
Elastic
Velcro
We are also pleased to receive new / unused fabric as follows:
1 metre minimum width
on the roll if possible
100% cotton preferred
We are not able to accept
Suit material
Denim or material of similar thickness
Silk or other material of similar thickness
Curtain material
Bedding
Timber
When we ship our tools out to Africa, we create specific trade packs that are put into wooden boxes which are built at our workshop at Netley Marsh.  Without the wood, we can't make the boxes and at this current time, we are in very short supply of timber.
If you are able to find wood/timber, whether that be new or used that can be donated to Tools For Self Reliance, it would be greatly appreciated.  Below, we have listed timber that we use to create the boxes, as well as wood that we cannot accept.  If you have any queries regarding what we can/cannot accept, please do give us a call on 02380 869697.
Sheet Materials
Ply, 6mm and upwards – part sheets, full sheets, offcut strips wider than 330mm
OSB – 6mm and upwards – part sheets, full sheets, offcut strips wider than 330mm
Ply packaging crates.
NB: We cannot accept used shuttering ply as the concrete residue will damage our table saw.
General Timber
Anything relatively nail free which we can cut down to form 25mm x 30mm battens, such as:
CLS 'studwork' timber – Lengths 900mm and over. Any dimension
Roofing batten
Fence posts and gravel boards
Old or new decking timber (some rot is ok, we can cut round rotten areas)
Planks / boards / carcass timbers, etc
Roof / floor joists & rafters.
NB: We cannot use pallets, heavily nailed timbers or wood containing woodworm.
What about tools that we can't send?
We are sometimes donated tools, sewing machines and other items which haven't been requested, or which are in some way unsuitable or surplus to requirements. We may then:
pass them on to other charities who can use them
use them in our own workshops and warehouse
sell them – at car boot sales, auctions, on ebay, or to specialist dealers
recycle them
Any funds that are generated from the sale of tools go towards supporting our work in Africa. Please ask for details.