Tools for Self Reliance is a rarity amongst charities – our work genuinely transforms lives.  Every tool we send, every new skill learnt, means a person, a family, a community, benefits.  And that means every penny we raise will help transform a life. 
Our projects support people to find meaningful employment and to secure an income that will support them and their families. Projects provide vocational training opportunities which will equip them with practical trade skills and knowledge of how to run their own businesses and maintain a healthy lifestyle.
In 2023 we will launch our ambitious new five-year strategy which will see us focus our work on improving the ways we support our partners in Africa to diversify approaches to the development of sustainable livelihoods.
What do we do?
In 1980, Tools for Self Reliance was formally registered as a charity with the mandate of working with local organisations in developing countries to relieve poverty amongst the local population. It was envisioned as being a practical way to support tradespeople in some of the poorest parts of the world. We specialise in providing the vocational skills and business training rural tradespeople need to earn a livelihood, and equipping them with the tools they need to get started.
When we started, the tool collection and refurbishment process provided people in the UK with the opportunity to work together for the greater good. Today, there are hundreds of volunteers in Tools for Self Reliance groups all over the country, collecting and refurbishing tools, and there are scores of others collecting tools, raising money and publicising our work.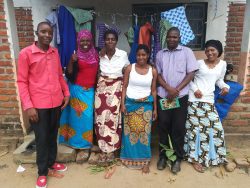 We work in partnership with local community based organisations and non-governmental organisations in the five countries that are our areas of focus – Ghana, Malawi, Uganda, Sierra Leone and Zambia. We believe that these organisations are best placed to identify the local needs and to engage with the community.
Our partners deliver training programmes which include not only technical trade skills, but also business and financial management, health awareness, and life skills. Upon completion, trainees receive a start up kit of tools, and are supported in forming their own businesses. This holistic training model is proven to support the development of sustainable livelihoods and income diversification for people affected by poverty.
Find out more
You can find out more about our strategy, and read our latest newsletters and Annual Review, by visiting our Publications and resources page. You can also keep up to date with our projects and trainees by reading our news pages or by signing up to our newsletter. Visit Meet the Team to learn more about the people behind Tools for Self Reliance.
Our beginnings
Tools for Self Reliance was started in1979 by a handful of dedicated volunteers. Disillusioned by their experiences of development projects in Africa and the failure of overseas development assistance at that time to trickle down to the grassroots, our founders took it upon themselves to work with small-scale community based groups and at the same time lobby major institutional donors and governments to adopt a more people-centered approach to development assistance. You can read more about Glyn Roberts, who led the efforts to establish the organisation, here.
Privacy policy
You can also read our 2022 Privacy Notice.