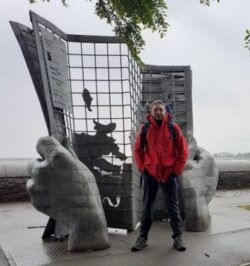 Charity man takes off from Minehead for his biggest charity challenge yet
Charity worker, Stuart Bailey, has set off to conquer the 630 mile South West Coast Path, all to raise money for Tools for Self Reliance! After years of planning, delays due to COVID and months of training, Stuart took his first challenge step on the 1st May from Minehead, Somerset. Usually, walkers look to complete this challenge in 8 weeks, but Stuart is determined to do it within 7 weeks.
Tools for Self Reliance has, for over forty years, worked to support people to learn skills they can use to find work and earn an income.  Working with local partners in five African countries, the charity raises funds to support projects which deliver training, complementing this with the provision of the tools, equipment and sewing machines needed to move into work.  These tools are donated to the charity by the public and collected and refurbished by a committed band of over 600 volunteers across the UK.  In Africa the tools are used to support the delivery of training and also distributed to training graduates so they can start their own small business and generate income to support themselves and their families.
Stuart has worked as Workshop and Site Manager for Southampton based Tools for Self Reliance for over 4 years and is deeply committed to the charity and the challenge ahead:  "This will be the longest walk of my life, and certainly the hardest challenge I've ever faced… excluding becoming a father of course. Alongside my family, I am delighted to have the support of the Tools for Self Reliance team and our amazing volunteers."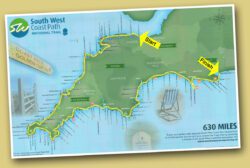 Stuart has set off on his journey in North Somerset, in Minehead, and will continue along the coastline of Devon and Cornwall, all the way to Lands End, before heading towards the finishing line in Dorset.  He is aiming to complete 15 miles per day, but along the way Stuart will be carrying all his own camping gear and everything he needs for his 7-week trek. He is hoping for a few home comforts along the way at local B&Bs, but for the most part he will be under canvas.
To put this challenge into perspective, Southampton to Inverness is roughly 580 miles, Stuart will be putting his best foot forward for a further 50 miles before completing the full 630 miles of the South West Coast Path!
Sarah Ingleby, Tools for Self Reliance, CEO, will be cheering Stuart on! "This is an amazing challenge for Stuart to take on and we could not be prouder of him. There will certainly be ups and downs along the way, but we are confident that he will make it to the finish line.  We hope that his efforts will encourage people to contribute to Stuart's ambitious fundraising target so we can raise the funds needed to send our next shipment to Uganda, enabling even more people to change their lives."
Stuart's challenge has already raised 50% of the £5,650 target – a great start and one which has really boosted his commitment to getting to the end.  "A big thank you to all those who have already donated to this challenge. I hope that even more people will want to donate, making every step worth the effort and ensuring we can help people to build better lives in Africa."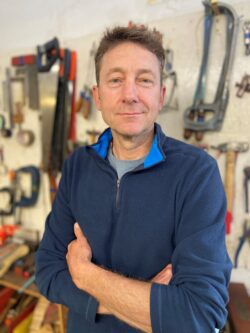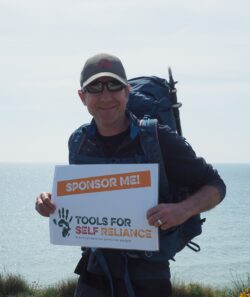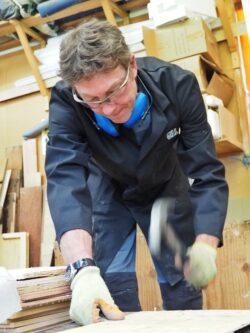 Follow Stuart's challenge here; read his blog and track his progress on the map.
If you would like to support Stuart and help him reach his fundraising target, please visit his JustGiving page and make a donation today.
May 2022