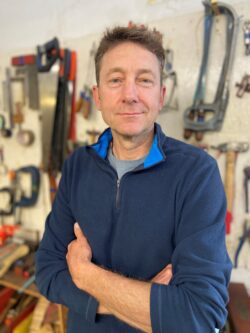 Netley Marsh Workshop Manager Stuart Bailey is walking the South West Coast Path from Sunday 1st May. Sponsor his 630 mile trek via JustGiving and help fund our next tool shipment to Uganda.
When someone says they're going for a walk on the beach, you don't imagine they mean across 8 consecutive weeks and taking in four county coastlines.  Stuart will be taking on this epic challenge to raise vital funds for our next tool shipment for Uganda, where our project partners use our refurbished tools to deliver vocational training courses in carpentry, bricklaying, welding, bicycle repair, tailoring and plumbing.
Stuart is hoping to raise a whopping £5,650 to cover the cost of shipping tools to our partners in Uganda.
Please

sponsor

Stuart on his mega walk!
Please support Stuart by donating through JustGiving – it is simple, fast and totally secure.  Once you donate, they'll send your money directly to Tools for Self Reliance, so it's the most efficient way to give – saving time and cutting costs for the charity.
Where's Bailey?
Challenge Diary
17 May 2022: Day 17 St Agnes
I'm hoping to remember this as the worse day of the walk. It could happen.
Definitely a walk of two halves today Crantock to Perranporth is ok. I meet with Emma and we crack on through dunes and low cliff paths, in the sunshine. We have a snack at the northern end of Perranporth beach, and you can see the forecast rain and high wind approaching. We get the waterproofs on asap.
After that it's horizontal rain and lashing wind for the 2 miles into Perranporth village, where a stop at the Watering Hole bar for cheesy chips and a tea is a welcome respite. A dog at the neighbouring table nips my leg, but I'm too wet and tired to take much notice. I'm pretty sure the owner thinks it's my fault for wearing waterproof trousers. As we leave the cafe the wind and rain start up again in earnest, and it stays that way for the whole of the 4.5 miles into St Agnes. Paths become rivulets of water and the wind feels like it wants to tear off my poncho. Towards the end of the walk we come across a van that has slid off the road. The police are controlling the road and footpath, and won't let us past whilst the recovery truck is in operation. I ask one of the policemen if he has any doughnuts in the car he can let us have. He sees the funny side, but his colleague in the passenger seat doesn't look impressed. Good cop, Bad cop I guess. Eventually we and the police get bored of waiting in the rain, and they tell us to sneak by on the inside of the recovery lorry. I've got a BnB booked at The Driftwood Spars, a local pub in St Agnes, and it's with relief I get into my room, hang up all the wet gear, and go to the bar to warm up and have some food.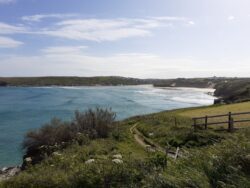 16 May 2022: Day 16 Crantock
Tip from the Trail No. 3 Raw sheep's wool is very effective at preventing blisters and sore patches on your feet. Just use a small pad inside your sock in the affected area. You can buy this online for 12 quid for a small bag, like those you got to dispose of Covid tests, but no need for that, as you can collect it along the way. Don't try to harvest this stuff from a live sheep – that's a good way to get shot at by a farmer, or end up on a register of some kind. Anywhere that sheep abound you can find it hanging on gorse bushes, barbed wire fences, etc. Natures bounty.
The walk today takes me from Treyarnon Bay to Newquay. I'm caught in a violent rain squall on the cliff top somewhere above Bedruthan Steps, and I only just get the poncho on in time. The rain doesn't last long, and by the time I reach Mawgan Porth and stop for lunch (another pasty, another one better than the pasty of Appledore) the sun is back out again. Continuing on past Watergate Bay it looks like they are starting to set up for Boardmasters Festival. The path then enters Newquay, where I discover The Gannel ferry has been cancelled due to the operator having Covid. A bus around the estuary is the only option. I pitch up on Quarryfield campsite, Crantock and watch a pretty good sunset. I book a BnB for tomorrow in St Agnes as the weather is looking bad in the afternoon. Looks like it will be a long day, 13 miles or so.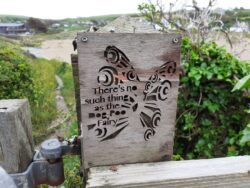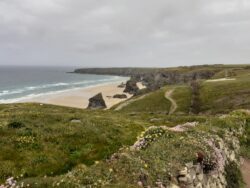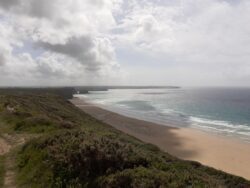 15 May 2022: Day 15 Treyarnon Bay
Start of Week 3.
Dennis Cove Campsite in Padstow turns out to be a bit of a SW coast path walkers reunion centre. There is Dan and Neil, Emma and Lisa and of course me and John. We have a bbq and then sit there in the rain for a couple of hours. The sunrise over Padstow is lovely when the birds wake me up at 6 am. We are away by around 9, and walk down the Camel estuary for a few miles in bright sunshine. Emma has joined us today, and the 3 of us make good time into Trevone Bay where we stop for coffee. Its a nice little spot, very relaxed. We continue on to have lunch on a headland, passing through some old holiday destinations of mine like Harlyn Bay and Mother Iveys. Just past the lighthouse we spot seals, and then we finish the days walking at Treyarnon YHA. We meet Lisa who got here half an hour earlier than us. Its raining heavily so we decide to upgrade to a shared yurt at £48 per night for up to 4 people rather than pitch 3 tents for £15 each. I'm hoping no one snores too much, including me. We say goodbye to John, and it's suddenly a lot quieter! He's been good company and did us all a favour with shuttling the big bags over today. THANKS JOHN.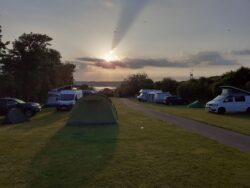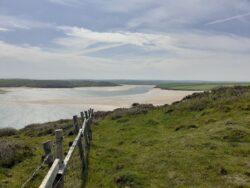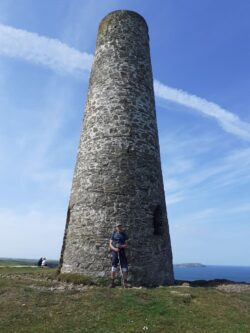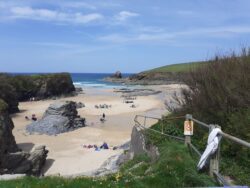 14 May 2022: Day 14 Padstow
Morning arrives and Shaun and Carolyn prepare us a huge fry up before we set off. We walk round to Port Quin, and I fill up my bottle from a communal tap I spotted years ago, and one day vowed to return to when walking the coast path. The weather is fantastic today, and we make good time around to The Rumps, on the way passing some old mine shafts and a huge collapsed stack cave As we approach Polzeath the path gets busier and busier, and we hear people in nautical themed clothing calling dogs with names like 'Lettuce' and 'Pancake'. Suddenly it dawns on me – we are nearing Rock, or 'Kensington on Sea' as its called, and this is the weekend, so it's all perfectly normal. Rounding the cliffs towards the beach at Polzeath we spot a pair of Choughs. There are only around 300 pairs of them in the UK, so it's quite rare. They are the national bird of Cornwall, even though its only a county. We have lunch on the beach, and I spot a fantastic vintage 4wd Toyota Hiace campervan in the car park. They are even rarer than Choughs. It's an easy walk on round to the Rock to Padstow ferry. We take the boat across, then its up to the campsite to bbq a few sausages and have a couple of beers.
End of Week 2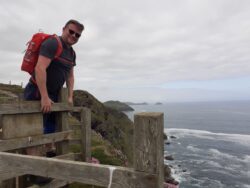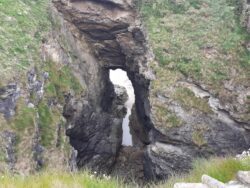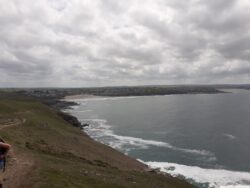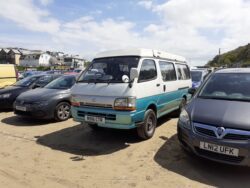 13 May 2022: Day 13 Port Isaac
I hear Dan up and on the trail by 6am this morning. Blimey. I am still in my sleeping bag thinking about getting the first brew of the day on the stove at this time. I'm packed and away by about 8:30am ish, so not too bad. Today's 9 mile leg is classified as 'Severe ' the whole way, which really means 'knees, you're in for it today'. Lots of steep descents into river valleys follow, coupled with equally as steep ascents. I pass through the small beach village of Trebarwith Strand. You know you're approaching deepest Cornwall when the place names mainly start with Tre, Tol, and Pol, and the locals start to refer to you as an 'Emmitt' and sometimes chase you from the village with sticks. Bless them. It's very windy, and I'm worried about my cap getting blown away, so I create a tether from an unused rucksack strap and the mitten clip previous used to dry socks with. I'm so proud of this piece of improvised lanyardship that I get a passer by to take a photo. The views are as awesome as ever, particularly inland, where you can imagine glaciers 20,000 years ago in the last ice age scooping out the valleys we see now. I pass a bunch of friendly Swedes who are here walking for 4 days or so. They seem very enthusiastic. Eventually I reach Port Isaac and check in with Shaun and Carolyn, family members who live here and who do my washing for me. They also make a fresh seafood meal which another friend from home, John Guest arrives and shares before heading heading off to Padstow. We are meeting tomorrow morning for a couple of days walking together. Shaun has promised a big brekkie in the morning and sandwiches for the walk. THANKS SHAUN & CAROLYN.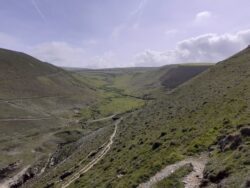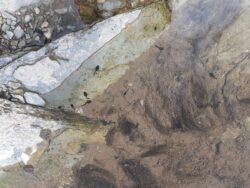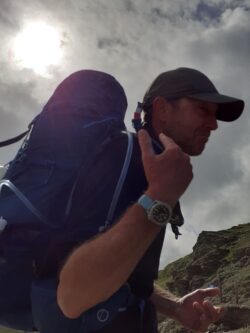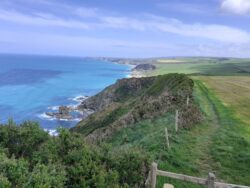 12 May 2022: Day 12 Tintagel
Great news today, the Londis in Boscastle has fruit flavoured boiled sweets, and my original supply ran out in Hartland. Apart from cheese they are my hiking food of choice. And as they're fruit flavoured, I'm pretty sure they count as one of your 5 a day. These even have some blue coloured ones in the pack. I'm looking forward to trying those – I've seen what blue food can do to kids at birthday parties. I suppose it sounds strange to class a 5 mile walk with a 12kg pack a rest day, but that's exactly how it feels. No sooner as I leave Boscastle it seems I've arrived in Tintagel, put the tent up, and gone to get a pasty for lunch. This one is far superior to the 'best pasty I'll ever taste' of Appledore. The walk is pleasant, not too strenuous, with good views and a descent into a nice rocky chasm. I have a wander around Tintagel centre. If you're after cosmic witchcraft trinkets, pasties and replica Excalibur swords then this is the town for you. I meet Dan and his mate Neil on the campsite. Dan is doing the whole walk in one like me to raise funds for a charity, Neil is supporting for a couple of days. There is also Lisa, who is doing the walk solo, and has 8 weeks like me. There are a lot of people doing the SW Coast Path in one go, more than I would have thought. We go to the pub for a couple of drinks and discuss the usual subjects of tents, pack weights, hardest bit so far, etc.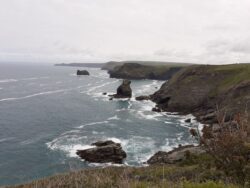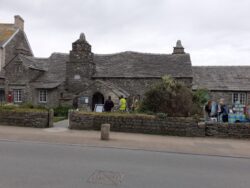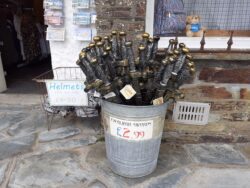 11 May 2022: Day 11 Boscastle
At breakfast I bump into the 2 Israeli ladies whom I met at Elmscott in the guesthouse, and another girl, Emma, who is seeing how far she can get in 6 weeks. We discuss tent pitching techniques, weight of rucksacks and the use of compeed blister pads. A retired couple sitting close by are visibly bored to tears by the conversation and start to eat their breakfast faster. Bad weather starts the day, but it's forecast to blow over at around 11am. I set out at 10am with light rain still falling, using my Snuggpack poncho for the first time. It seems to keep me pretty dry. I have decided to make it a long day today and go through to Boscastle, 16 miles in total. Its a long walk, with a good few ascents into deep ravines and up again. Along the way I pass a bunch of van dwellers who have set up home in a clifftop car park. I always regret not giving it a try myself for a year or two, I reckon I could have been ok at it. I have a late lunch in Crackington Haven, then complete the equally as strenuous final 6 miles remaining into Boscastle. Near to the end of walk I disturb a fox who is foraging in the gorse at the side of the path. He takes off like I had a red jacket on and a hunting horn under my arm. Reach the YHA around 6.30pm, grab some chips from the local chippy here and collapse into a chair. Might have a shorter one tomorrow.
10 May 2022: Day 10 Bude-Stratton
The coast path is overcast and chilly this morning when I first join it. I walk along windswept cliff tops, completely alone, quite struck by the brooding, powerful and indefinable attractiveness of the place. I come across a tiny hut set into the cliffs, built by a poet called Ronald Duncan who wrote poetry there in the 1920s and 30s. It is left open, with a visitors book and a desk, and people can add their comments and thoughts as they pass by. I'm suddenly filled with a poetic muse, and I record the words in the book before they are blown away like sand by the wind. Its a deeply emotional piece, but I feel I can share it here: "I sit on this chair And rest a while Fish a stone from my boot Then press on with a smile." I like to think everyone will take something uniquely personal and different from that… The path rises and falls into numerous deep river valleys. At some point I cross a bridge from Devon into Cornwall, and my first county is completed.
I stop for lunch at a teashop in Morwenstow recommended to me by the warden of last night's YHA.  Fuelled up on a pint of tea and cheese, my hiking food of choice, I push on. The ups and downs continue, but the views from the high points are always worth the effort. Bit of a metaphor for life there. Eventually I reach Bude, where I do a top-up shop for essentials. I have booked into a cosy guesthouse as the weather looks awful tomorrow.
9 May 2022: Day 9 Elmscott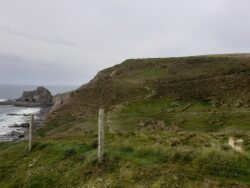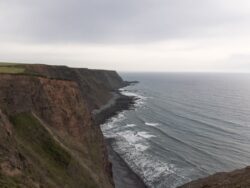 We start with a full fry up today in the BnB, my first since I started the walk. I'm glad to start the day on a calorific high point. Today's walk takes us around the coast to Hartland Point, with great views back to Woolacombe in the distance and Lundy Island offshore, one time base for the Marisco Pirates. We make lunch in a closed cafe at Hartland Point, together with an Israeli lady and her mother who are walking 6 days of the path. They tell us about the Israel National Trail they both have completed, 3 weeks of which is spent crossing the desert where you have to arrange people to go ahead and cache water for you. Luckily it's not so extreme here, and as we complete the final 2 miles or so into Hartland Quay. I have a farewell drink with Chris and he heads off. The next section, Hartland to Bude, is 15 miles and has the reputation of being very tough. People we meet coming the other way have delighted in telling us how hard going it is. I decide carry on a bit longer today and to book into the YHA at Elmscott to knock a couple of miles off the distance, and get a good night's sleep to prepare for tomorrow's ordeal. Incredibly the volunteer warden at the hostel turns out to be an ex volunteer at TFSR Crickhowell.
A couple of top tips from the trail: 1) You can hang your washing to dry from your rucsack using one of those clips that kids have their gloves fixed to their coat sleeves with. 2) You can make a quick, relatively filling and reasonably edible meal using a pouch of Uncle Ben's quick cook rice, a tin of sardines in tomato sauce, and some chopped up chorizo. Just mix it all up and heat by any method for 3 mins. I have named this taste sensation "Poor Man's Paella". It's about as Spanish as Manuel the Waiter from Fawlty Towers, but its light to carry and is better than it sounds!
8 May 2022: Day 8 Clovelly
Start of Week 2.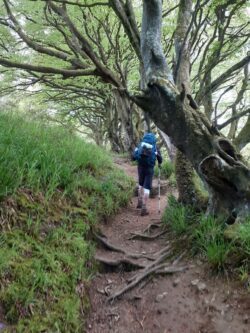 My pal Chris is joining me today, and we leave the campsite heading for Clovelly. Quite soon we descend into a bay filled with driftwood, including a dragon or sea horse type head rising vertically from the pile of timber. We stop for a lunch break at Peppercombe, then continue our walk along an old coaching road, arriving at Clovelly – a very unusual privately owned village – and book into our Airbnb for the night.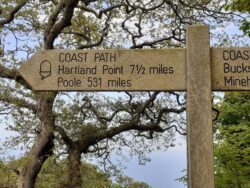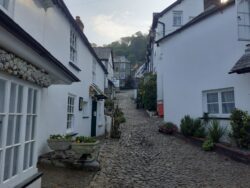 I almost forgot to mention the nice guy in the campervan on the campsite who charged my phone this morning. We chatted about tents and homemade fire pits for a while, and he told me he had walked the coast path in week long sections a few years ago. Then he made the profound comment "You know the worse thing about doing the SW Coast Path mate? It's finishing it."  Hmm.
7 May 2022: Day 7 Abbotsham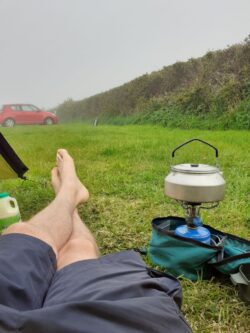 1 week completed, up to 7 to go.
Most body parts still fully intact, so I'm quite happy. On the way out of Bideford I spot the plaque on the wall regarding witchery. A nice easy river walk to Appledore where I stop for a coffee. I love Appledore, it feels like a French port village that you find in Brittany or Normandy. And they encourage overnight campervan and motorhome stays in the car park at the end of the quay, just like a proper French village Aire de Camping Car. I buy a pasty for my tea from a guy in the farmers market on the way out of the village. He claims it will be the best pasty I've ever tasted. That's a strong statement given where we are in the world. It turns out he was only half lying – it is the best pasty I've tasted….today. I wander on a couple of miles to reach the long shingle beach at Westward Ho! 2 facts about Westward Ho! you might not know: 1) it's the only British place name to end with an exclamation mark ! and 2) Rudyard Kipling was sent to military college here from India when he was a boy. I meet up with Jon Dunkley, the previous TFSR workshop manager to me, and we have a good chat. I push on a couple more miles along the cliff path and pitch up at a small farm campsite with the most amazing shower block. They even have piped music and My Generation by The Who was playing during my first visit there this afternoon.
6 May 2022: Day 6 Bideford
Did you know you can scramble 3 eggs using only a coffee mug and a microwave? I figure this out in the Campers kitchen at The Secret Spot this morning, necessity being the mother of invention. While preparing this Nigella-esque masterpiece I chat with the only other camper on site, an interesting lady with a large enduro type motorbike who is touring the off road green lanes and byways of Devon and Cornwall. Today's walk could be categorised as flat, long and dull, in any order. I first walk down the river estuary from Braunton to Barnstaple following a disused railway, only to walk back up the estuary from Barnstaple to a point directly opposite where I started, an 8 mile round trip separated by about 100 yds of mud and water. Now I like a little bit of wanton punishment as much as the next man, but that's ridiculous. Baileys River Taxis could be born on the back of today. The route then follows another disused railway line along to Instow. (I was thinking, while walking along these huge cuttings, embankments and iron girder bridges, how proud the Victorians would be at how their 20th and 21st century future-Brit decendants have taken care of the extensive public transport and freight shipping network they over engineered and left for us to maintain). I had hoped to take the ferry from Instow to Appledore, thereby cutting off the 5 mile round trip up another estuary to Bideford and back, but Spring low tides mean its cancelled for 3 days in May, and today is one of them. The river walk to Bideford does become more interesting, I come across a bizarre soft toy zoo housed within an electricity substation, and then a few rusting hulks seemingly being used as houseboats – I recall the words of the great Mike Scott of The Waterboys: "We came upon a stricken ship That must have once been splendid The captain, as he died said 'Boys, Our revels now are ended' "- Makes you think, that, doesn't it. As I reach Bideford I meet a cheery couple on well laden cycles, we chat for a few minutes and I find out they are cycling from Lands End to John O Groats, sleeping in hammocks along the way. Suddenly what I'm doing seems quite sensible. They agree to a photo, and tell me their names are Holly, and Im going to say Jay, although that could be wrong. I said if I forgot their names I'd call them Brad and Angelina, and they seemed happy enough with that. Book into the Airbnb I've decided upon due to rain forecast tonight, and have a luxurious bath. So the day ends on a high.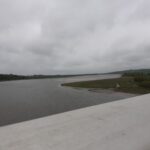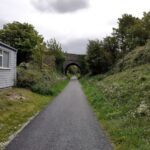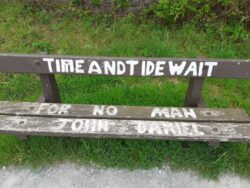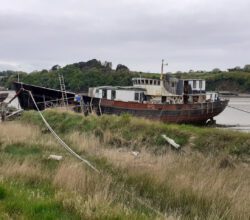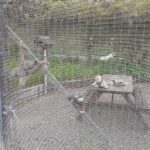 5 May 2022: Day 5 Braunton
Day 5 and I'm all set with clean clothes, and a 3 bacon sarnie breakfast courtesy of my stay at The Kirkby household. I set off through down town Woolacombe, and crack on for Putsborough and Baggy Point. Clearing the headland, it's down into Croyde, and a quick stop for a coffee and some kind of supercharged date and chocolate flapjack. Walking along the beach at Croyde brings back happy memories of my many near- drowning episodes, surfing in years past with my brother and friends, and then it's a long, hill contouring walk over to Saunton with incredible views over the beach and dunes. This was another WW2 D-DAY practice beach, and its easy to see why. The coast path walk then takes you through a golf course, and it's all 'fore' and dodging sliced balls by men in strange trousers until you reach Braunton. I've booked into The Secret Spot campsite.  It's a bit like campsite heaven, free tea and coffee, a lounge with sofas and even a Hawaian corner. I've decided to recommend The Secret Spot to everyone I know. Ps. Some of you might want to see my tent set up, so there is a photo attached. Snug is a good description. Very snug might be even better.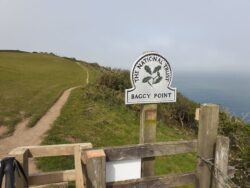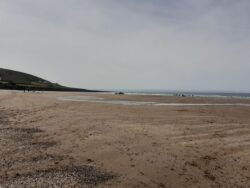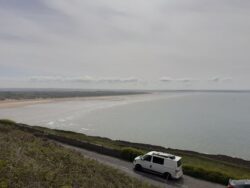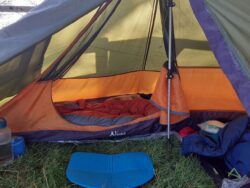 4 May 2022: Day 4 Mortehoe
Today was an easier 12 mile leg, starting with a climb and view back over the campsite at Watermouth. Then a gentle meander into Ilfracombe, passing Verity along the way. I guess it made sense to Damien Hirst at the time. Then on the cliff path to Lee and up onto Bull Point with great views back towards my start point today. Finishing up in Woolacombe with friends the Kirkby family who've kindly put me up for the night and are washing my clothes.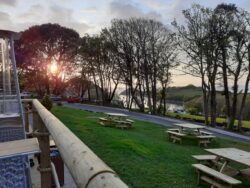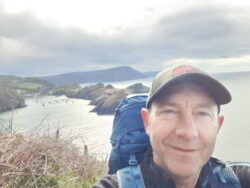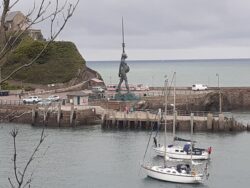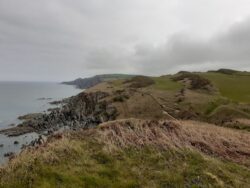 3 May 2022: Day 3 Berrynarbor
Lynton to Coombe Martin today. Definitely a walk with a beginning, a middle and an end. Valley of The Rocks just outside of Lynton was nice. Unfortunately I encountered one of the famous wild goats with kidd, and they ate my inflatable TFSR logo'd hammer. Still, its nice to think there is a small part of TFSR somewhere on the North Devon coast. Found a random sign which mentioned Russia, among other places, so that felt apt. Then it was up, down, up down, bluebells…nice, just before up again, culminating in Great Hangman, highest point on the coast path and possibly English coast, according to a lady in the pub. A nice German couple made me stand on a pile of rocks before they'd take my photo on the top. Ended up with a late pub lunch in Coombe Martin where I watched a bride and groom have photos taken while sinking in the wet sand. Lovely memories. Pitched up in Watersmouth Valley campsite, on a harbour, a very picturesque spot.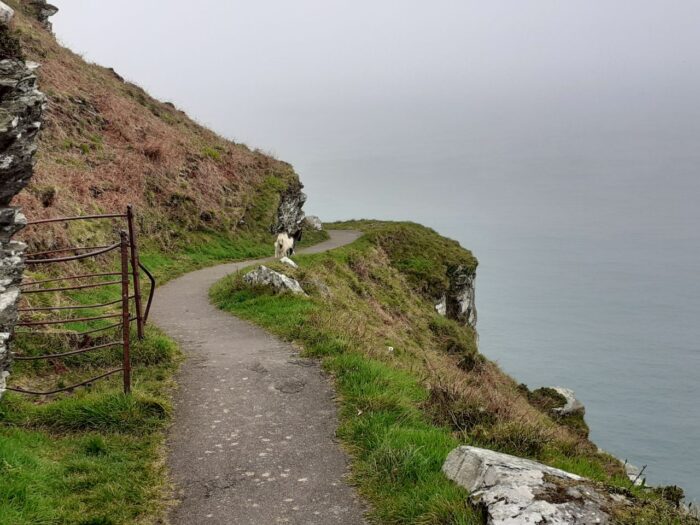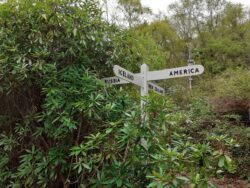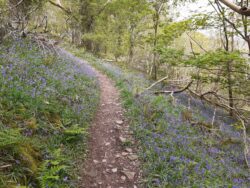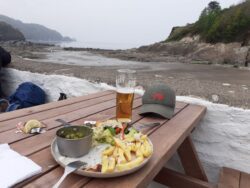 2 May 2022: Day 2 Lynton and Lynmouth
Day 2 and better weather. Met my old mate Chris Kirkby in Lynmouth, then Nina dropped us back to Porlock Weir for the 12 mile walk to Lynton. We detoured for some wild swimming in a freezing river near Watersmeet. Seemed like a good idea at the time. Now all pitched up at Sunnylyn campsite and cooking pasta.
1 May 2022: Day 1 Minehead to Porlock
And he's off!  Good luck Stuart, you can do it!
17 & 18 April 2022
Training walks along the Dorset coast: 17 miles on Easter Sunday and 11 miles on Easter Monday.
10 April 2022
Training walk near Alton, Hampshire and testing out my pack.
06 March 2022
Training walk at Hurst Spit with my wife and ESC volunteers Alfiia and Valerie.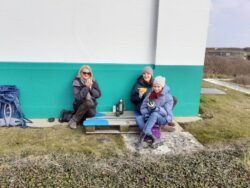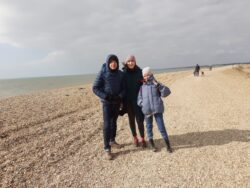 13 February 2022
Kit bag essentials are ready to go.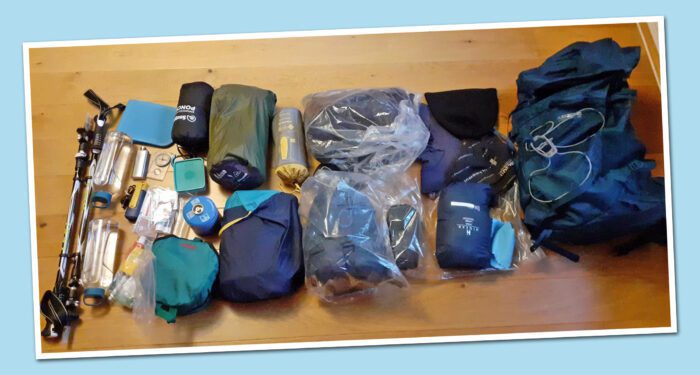 02 February 2022
The route map arrives and it looks like a jolly long walk from where we're sitting!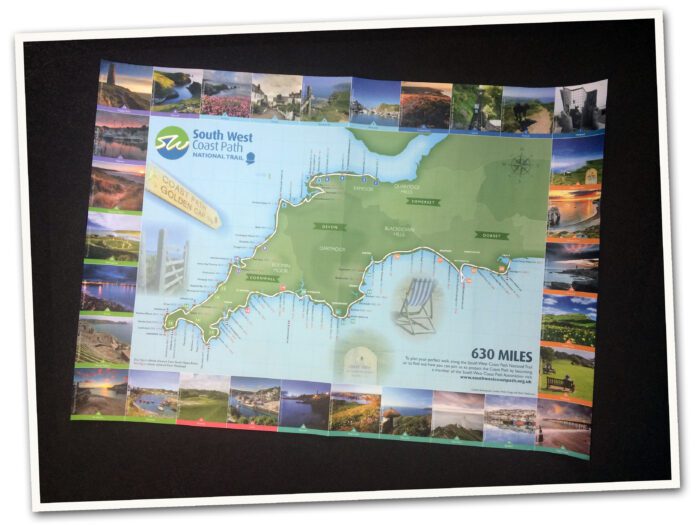 01 October 2020
Stuart has a big idea.