The communities of Northern Uganda were devastated by the brutal civil war between 1990 and 2009, and the impact is still felt today.
Its been estimated that 66,000 children were abducted and forced to become child soldiers, with over two million people forced to move from their homes.
Despite ten years passing, many young people in rural communities have never set foot in a school, resulting in a high illiteracy rate in young adults.
Hope through opportunities
Working with our five Ugandan partners, next year 320 young people in Northern Uganda with the opportunity to transform their lives from one of unemployment and poverty to a prosperous and fulfilled future.
The tool shipment that left the UK on 10 October will equip the young trainees who are due to start their vocational training projects in March 2020.
A further 2,200 people in the community will benefit from improved washing and sanitation facilities.
Read more below about the five projects our partners in Uganda will be delivering to empower their local rural communities.
Growing Young Entrepreneurs in Acholi Region
Delivered by Green Ribbon Foundation Uganda
60 disadvantaged young people in the Kitgum district will train to become tailors, motorcycle mechanics or carpenters and will be supported to set up their own businesses.
Staggeringly 16-18% of pupils in these schools dropped out last year because they lacked access to feminine hygiene products. This project aims to reduce that by giving 160 girls in the district washable sanitary pads, made by tailoring trainees.
Wakiso tailoring and business project
Delivered by Single Parent Association of Uganda(SPAU)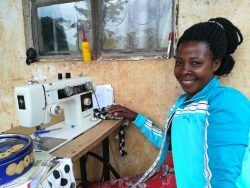 50 young people who have had to leave education early and are unemployed in the Wakiso area will have the opportunity to spend nine months learning construction or tailoring skills in SPAU's training centre before moving to a three month placement working with a local business for hands on experience. Trainees will also be provided with business and life skills and be offered literacy and numeracy training.
Improving rural persons employability, sanitation and hygiene in Nabbaale.
Delivered by TA Crusade
The training opportunity will be focused on supporting 80 young people of Mu kono District who either couldn't go to school, or are young persons living with HIV, young widows, HIV care givers, and young persons with disabilities, with the opportunity to learn a trade skill, business, life skills and functional literacy and numeracy.
Trainees will support the local community by building toilets for two local schools and producing washable sanitary pads for 650 girls.
Livelihoods development and integrated water, sanitation and hygiene programme for rural communities in Western Uganda
Delivered by Rural People In Action For Development  (RUPAD)
50 women and men from disadvantaged groups in Kibaale District of Western Uganda will benefit from this economic empowerment programme to gain skills in either building and carpentry or tailoring skills.
The carpentry and construction trainees will be supporting the community through building eight toilets and tippy taps each for seven primary schools in the district. The tailoring trainees will be supporting girls to stay in school during their period by providing sanitary products.
Our partner RUPAD will also be delivering health and hygiene awareness programme to the schools to enhance awareness on good sanitation and hand-washing.
Capacity enhancement for rural artisans
Delivered by Uganda Rural Development Training Centre (URDT)
This project gives existing trades people the opportunity to top-up practical and business skills through a bespoke training programme.
80 trades people will spend a full five days learning with a wide range of useful practical and business skills to improve their existing enterprises. Read Charles from Malawi's experience of up-skilling when he trained on our project with our partner FESODEV.