Upskilling is an incredibly effective way to transform a family's life
Our recent project with our partner FESODEV in Malawi, provided established small businesses with a programme of training designed to build on their existing practical skills and knowledge; whilst also introducing them to new ways of working.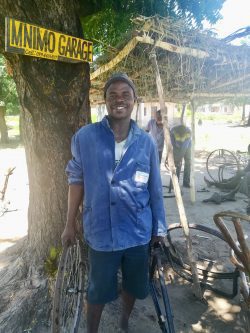 Charles Macheka, who runs the Mnimo Garage in Lower Shire in Malawi, had seen for himself the benefits of this training when visiting a tailor who had taken part in a previous project. He saw how the tailor changed the way he treated his customers and watched how the business changed for the better.
So, when FESODEV advertised that they were running a new project he quickly registered to take part and as a result has been able to not only improve his existing skills and knowledge of bicycle repair, but also to add additional skills in replacing spokes and fixing gears.
Now business is booming and the Mnimo Garage is providing Charles with the means to not only supports his seven children and wife, but also to keep 'my employees full with work and food'.
FORMAL TRAINING OPPORTUNITY
Alongside the up-skilling part of the vocational training project, Charles also took part in a five day life skills training programme, and a further twelve day business training programme.
He explained that keeping records has changed his business, "before I couldn't take care of my customers and had no records". Using the finance skills he learnt means he can manage his money more efficiently, meaning he knows how much the business is making, and can save for the future business and for his family.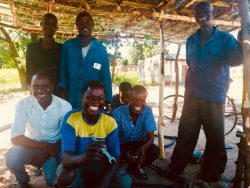 "It is not just me, but my colleagues have benefited a lot – the customers are flowing and we have all tools we need, and we all know our jobs are 100% now" 
THE TOOLS
 Charles is delighted at the quality of your donated tools he received upon graduating, he told us how durable they are and will support the people in his business for generations to come.
He can work even faster now as he has everything he needs.
SHARING HIS SKILLS WITH THE NEXT GENERATION
Charles is eager to share his skills, not just with his current employees, but over the next few years he will pass on his skills to his children too.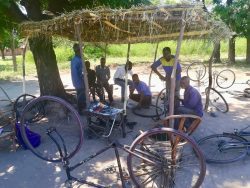 His additional income of approximately £35/month means he can buy additional food for his family.
 He can also buy medicine for his grandmother, clothes for his children.
 And fertiliser for the plot of land he grows maize, beans and keep pigs, ducks and chickens on.
But significantly, thanks to the savings from his additional income he is able to manage emergencies including the recent flooding which was caused by cyclone Idai.
A monthly gift of £5 from you (less than the subscription to a television streaming service) supports people like Charles to build their businesses and not only support the future of his seven children, but also greatly benefit the wider community.