Clare Nolan our Head of Africa programme has just returned from a two week evaluation visit to Ghana to meet with graduates to find out their experiences during the training project, and how their lives have changed since establishing their own enterprises or gaining employment.
Clare was thrilled to be with our partner NORSAAC at the very moment that the container of tools arrived, to record the moment the seal was broken and the door was opened.
3,273 of your kindly donated tools and sewing machines have arrived and will be given to people starting their training soon.
Once they have graduated, trainees will be able to establish their own enterprises straight away with quality refurbished tools and start earning a sustainable income.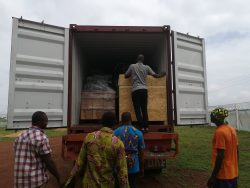 Meet Gloria Brempong
Clare had the wonderful opportunity to meet graduate, Gloria Brempong, who finished her tailoring training earlier this year, and has used her sewing machine to set up her dress making and beadwork shop.
Gloria was one of 15 young women and mothers aged between 16 and 22 years old who graduated from our project delivered by Street Girls Aid which supported young women and mothers with empowering opportunities to train in high quality tailoring life skills, literacy and numeracy as well as business and entrepreneurial skills.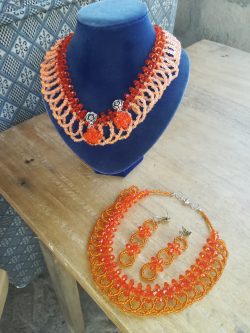 You may recognise Gloria from the BBC documentary "The Singer Story: Made in Clydebank".
Gloria has already made a real success of establishing an income and growing a customer base with her tailoring business. Before training she was selling juice drinks she made. Now she can afford to save some of her income through mobile banking, and has purchased an iron for her work.
Gloria is currently working hard and is saving to open her own retails space. She has great aspirations to employ other young people in the community so she can return to school to study art and design.
Set up your regular gift today of only £4 a month to support more people like Gloria to have the opportunity to transform their lives and look forward to bright futures with skills training and tools.
Thank you for supporting practical help for practical people.