Update from Sarah Ingleby, Chief Executive
I hope this message finds you, and the ones you love safe and well.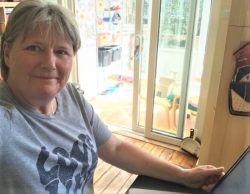 So much has changed in recent weeks, and as the African continent is preparing for coronavirus, our partners are responding to the government advice and following requirements to shut down.
Support in Africa
This will mean that some of our partners have had to suspend projects or delay starting them as it will not be safe for trainees and partners to gather for their training. These are not easy decisions to make as it means that hundreds of people who want to start building a livelihood for themselves and their families, are not able to do so.This is where your support to livelihoods has never been more important. By enabling people with the means to acquire skills and tools – they are now more resilient to the challenges they face ahead. You can help to ensure we get tools to those who need them most.
We stand together to support each other
Living with such uncertainty is a way of life for many at the moment– but we can all play our part in supporting training and enabling people to have skills and knowledge that they can use to generate income and to support their families – no matter where we are in the world.To keep our supporters, volunteers and staff safe, Tools for Self Reliance has closed our workshops and devastatingly had to cancel all of our vital fundraising events.
But there are still
ways you can show your support
– and stay home. If you are able to
make a small gift today
, your generosity will support families to get back on their feet as soon as they can.Look out for posts on Facebook and future e-newsletters of the many practical ways you can continue to support people build sustainable livelihoods whilst keeping yourself safely at home.Despite these changes, the Tools for Self Reliance team is continuing to work tirelessly to support our partners in Africa through this incredibly challenging time.
We have been warmed by your many messages of support and inspired by seeing volunteers setting up workshop in their homes and sheds!I would like to personally thank all of our volunteers and supporters. Having reached the milestone of operating for forty years, they have undoubtedly underpinned all that has been done to make Tools for Self Reliance a significant contributor to livelihood initiatives in Africa, and I am sure we can rely on you all to take up where you left off as soon as we can.This is a time when small acts of kindness truly make a difference in these difficult times.
With your support we can will continue to support those with tools and skills when they need them most.
Take care, stay safe, stay home – it will save lives – and be kind to yourself and others.
Thank you.
Sarah Ingleby
Chief Executive
Where we work