Update from Ziblim, Ghana
November 2020
Ziblim Zuleha is one of the extraordinary women whose           story you read a few weeks ago.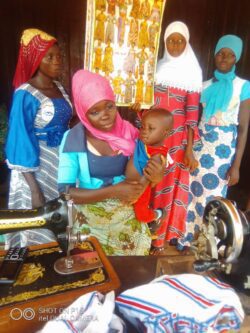 Last month our training partner WUDEP in Ghana, visited Ziblim's new thriving business that is now providing her with a sustainable income.
She has transformed her life with her skills and sewing machine. Now she is earning her own income to afford health care, food and clothing for herself and her son Idrissu with extra left over so that she is saving for the future.
Her son Iddrisu is now 18 months year old and is very healthy and active.
Passing the skills forward
Ziblim and her business partner are sharing their skills and are training two young apprentices. The team are seen in the new shop space that they have saved to move into. Ziblim uses her refurbished sewing machine to produce quality garments to sell. They used to sit under a tree but for now they are using a container as their training shop.
Thank you so much for hosting your Tea for Tools and sending your kind donations – which raised over £5,000 this year.
You can still send your gifts to support more women like Ziblim transform their lives in 2021 with skills and tools here. 
Read more news from our projects here