New project starts in Sierra Leone 

84 young people have begun their year of vocational training with our partner Craftshare in Sierra Leone.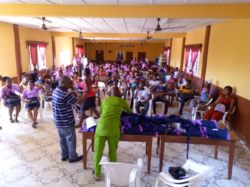 First things first – each of the 84 trainees has been provided with their own uniform and face masks before they began their practical sessions. The cohort seen here to the left gathered at Craftshare's training centre located in Bo, the second largest city in Sierra Leone.
For the first nine months trainees will be based at the centre learning the practical skills of their new trades in either tailoring, catering, hairdressing, metal work and welding, building and electrical installation.  Some of the young people supported by this project have ever been to, or finished school, so alongside their practical session literacy and numeracy classes so they will all graduate knowing how to read and write. 
21 hours of business skills and 21 hours of life skills will be included in their time at the training centre – to ensure they are equipped and confident to establish and run a successful business when they graduate with their tool kit. Life skills sessions work to boost the trainees self esteem through workshops discussing HIV/AIDS prevention and awareness, reproductive health, self-esteem, and personal safety.

New for this project – trainees will also enjoy four hours a week of basic computer training.
Using their new skills to support the community
During the training programme, graduates will apply their skills to improve community health and hygiene. Building and construction trainees will construct private toilets, dig a well, and install handwashing facilities at the training centre, for use of the 50 children a day attending creche and preschool there.
Tailoring trainees will produce reusable sanitary towels. These activities will be accompanied by health and wellbeing workshops disseminating messages about handwashing and safe toilet practices to reduce infectious diseases, improve child health, and improve attendance at training for participants through improved health of their children.
After nine months at the training centre the cohort will put their skills into action on three month work placements, before forming business groups and sitting their trade exams.
At the end of the year they will receive a kit of tools and sewing machines donated and carefully refurbished by volunteers in the UK.
This holistic package of skills, training will provide these trainees with a strong foundation for them to take their tools and build a livelihood which will improve their lives,  their families and benefit the wider community.
We look forward to sending up updates from this project later in the year.