Last month, CEO Sarah and Africa Programme Manager Ash embarked on a whirlwind, two-week tour of Zambia.  They visited our six in-country project partners; COP, RICAP, Eliashib, Keepers, KIC and KEVTC and had the opportunity to meet trainees due to finish their vocational courses in the next few months.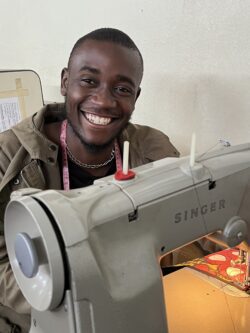 Twenty-two year old Francis Mulenga lives in Ndola with his mother, grandfather and his four sisters.  He went to secondary school but wasn't able to sit his final exams because his parents couldn't afford the fees.  His grandfather has a small holding where he grows maize for the family to eat, and his uncle, who works in a mine in Chingola, sends money to the family whenever he can.  After leaving school, Francis started working in his cousin's grocery store where he could earn up to Kw700 per month (£350).
Last year, Francis accompanied his friend to a Among the current trainees is Francis, who is training with Kabushi Entrepreneurship and Vocational Training Centre (KEVTC) graduation ceremony.  His friend was there to take photos but Francis took the opportunity to find out more about KEVTC's vocational training projects.  He decided to apply for a course in tailoring and in February this year, Francis began a twelve-month training programme, attending classes five days a week between 7:30am and 12:30pm.
First, Francis learned how to use the sewing machine and to stitch in a straight line.  He started learning on paper before working with different fabrics.  The first thing he made was an apron and he then moved on to making a basic skirt.  At first he found some of the techniques quite difficult but now he doesn't have any problems.
He said "nothing is difficult if you concentrate."
Since then, Francis has learned to make dresses and is now in the process of learning to make trousers which he really enjoys.  He explained that not many people know how to make trousers, so he will be able to earn an income when he graduates as his skills will be in demand.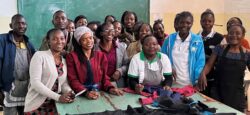 Francis has a genuine passion for sewing and he wants to go on to become a fashion designer.  He is already working on ideas for his own fashion line and is making links with other designers who he hopes to work with once he graduates.  Next month Francis is due to start a placement to gain valuable work experience, and he will sit an exam at the end of his training so he can get a trade certificate which will help when going to find a job.  The KEVTC training course also covers business management and marketing skills which will help Francis in setting up a his own enterprise.  He is learning to calculate material and labour costs when quoting customers and how to use social media to promote himself and his work.    Francis said "If I am going to be a designer I want to be able to tell my story".
We are sure that next time Francis attends a graduation ceremony it will be his own and we wish him every success in launching his own fashion range in the future.
If you would like to help more young people start on the road to earning a sustainable livelihood, please donate or set up a regular gift to support our work.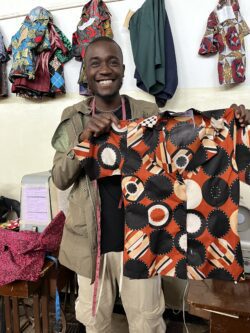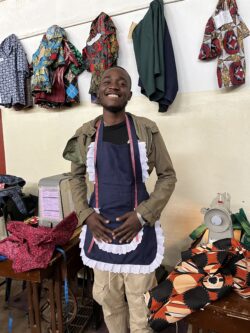 July 2022