Plans for the future in Ndola
Based in Kabushi Township in Ndola, Copperbelt Province in Zambia, Kabushi Entrepreneurship And Vocational Training Centre (KEVTC) has the capacity to train over 120 youths every year in various disciplines including tailoring, carpentry, bricklaying, constructional, plumbing and welding.  Trainees follow a nationally recognised training syllabus to achieve an accredited qualification.
In 2022, Tools for Self Reliance is supporting 70 trainees to learn vocational, business management and life skills in preparation for finding employment or starting a business and becoming self-reliant.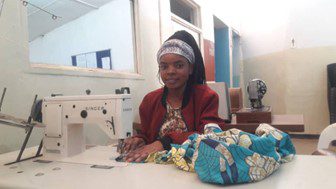 This is Monica Musonda proudly displaying her tailoring skills after spending 9 months of training at Kabushi Entrepreneurship and Vocational Training Centre.  Her interest in sewing was sparked after watching a fashion show.  Monica is among the 17 young ladies who are learning tailoring through our project with KEVTC this year.  Monica already feels confident to sew any type of clothing design and she has big plans for the future.  She said "I want to become my own boss, open up my own shop and employ other youths who are not doing anything."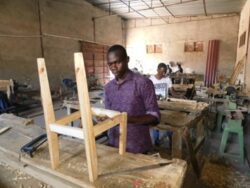 Bernard Mukuma is a double orphan who spent most of his early years on the streets until he was picked by a Pastor to work as a garden boy.  The church later encouraged Bernard to take up a course with KEVTC.  He chose to study carpentry as an outlet for creativity.   Now, Bernard is very proud to be a carpentry student and he feels that learning a trade has given him a sense of identity.  He said "I feel I have turned my life around for the better because of the skills I am acquiring".  When he started his training, Bernard wanted to work as a supervisor in a construction company.  Now Bernard is excited about becoming a certified carpenter and is looking forward to becoming self-employed.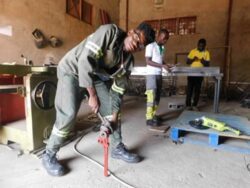 Jeremiah Mumba is one of 20 students training in bricklaying and plastering.  He is also learning about plumbing and how to plan and incorporate pipe networks into building projects.  Jeremiah is looking forward to passing his exams and starting a business after graduation.  He said "I want to form my own company which will be producing construction items such blocks and pavers."  Jeremiah said he is grateful to his friends for telling him about the training, and to Tools for Self Reliance for supporting him in his studies.
Training opportunities such as these are only made possible with your support.  If you would like to help more people learn a trade that could change their lives, please donate here.
October 2022
Where we work