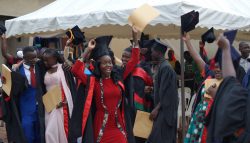 Congratulations to the committed 36 young men and women in Uganda who recently graduated from their vocational training course!
"I feel my future will be bright and booming, since I have acquired an everlasting practical skill," Fatuma Nanyonjo.
Starting in October 2018, the project was needed to support young people in Central Uganda to overcome poverty. Delivered by our in country partner, Single Parents Association of Uganda (SPAU),  the 36 trainees learnt either tailoring or building skills.
The tailoring trainees can now design and make different outfits including dresses, shorts, aprons and gomesi – traditional Ugandan clothing. They can effectively operate sewing machines and repair simple mechanical problems.
The building trainees can skilfully now interpret structural plans, lay bricks, dig foundations and plaster walls, as well as roof buildings.
Learning to read and count
All of the young people were supported with regular literacy and numeracy sessions.
Learning practical numeracy – such as using a tape measure and counting units, and basic literacy – alphabet recognition and spelling for note taking and record keeping, will be pivotal in the establishment of their businesses.
Life Skills
Life skills sessions focused on developing trainees' communication and interpersonal skills and improving their self-esteem and confidence. They were encouraged to make plans for their future.
Setting up their own business
All trainees received their tools as part of the graduation ceremony, and are already making plans as how they will earn an income.
14 trainees are looking for formal employment. 13 others plan to set up their own business individually whilst, and 7 are looking to work with another graduate trainee.
A vital part of the training were the business skills sessions which have given the trainees the know how to keep records, build a business, give good customer care, and how to develop a business plan and marketing strategy.
All of the trainees said that their self-esteem has improved since training
"I am now able to standout on my own and take decision of what to do with my life," Ignitious Bafaki.
Almost 4 out of 5 of the trainees earned a small income for themselves whilst training too.
Meet Betty Nansubuga, she is a single mother with two children, who prior to the training grew a small amount of food to feed her children from land she rented.

Now equipped with her tailoring skills, and the means to generate an income means she feels more valued by her family.
"I am now more confident, and I believe I can design different fashions."
Giving someone the opportunity to learn a skill they can use for life, and the tools to earn a living – empowers people.
We look forward to sharing more stories from the graduated trainees after we visit them on the next evaluation visit to Uganda.
To read more incredible stories of change from the people and projects which you support – click here.