5 November 2019
Hello everyone, my name is Johannes Baur and I am one of the two new European volunteers here at Tools for Self Reliance. I am from a smaller city called Aalen in the south of Germany. Arriving in Netley Marsh four weeks ago, I had an exciting time meeting all the people that volunteers at Tools for Self Reliance and learning about the workshop and the organisation.
The past month has been based on an induction programme not just about all the different parts of the workshop but also about the staffs tasks. Starting with the Africa Programs on to Fundraising and Volunteer- and Group-Coordination. In the workshop we learned about box making, the refurbishing of hammers, chisels, planes, vices, treadle sewing machines as well as the checking of those mentioned and more. So yeah, a very interesting time with a lot of things learned and I am still looking forward to learn more.
My favourite thing about the UK are the tea brakes at Tools for Self Reliance.
1 October 2019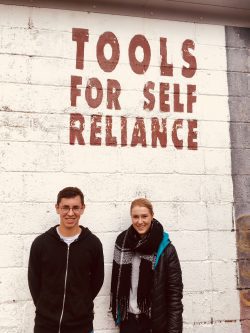 We warmly welcome Anna from Austria, and Johannes from Germany as our two newest European Volunteers who will be supporting tool refurbishment, kit packing and day to day activities in the workshop over the coming months.
9 October 2019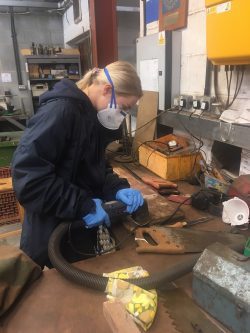 Our new European volunteer Anna is getting stuck into saw refurbishing in the workshop today!
Erik's 1000 mile cycle home
Scroll down for the latest update from Erik!

On Sunday 1 September 2019, Erik will leave Tools for Self Reliance on the back of his bicycle, with a tent, camping stove and a few more essentials, as he prepares for his greatest challenge yet – cycling for over 30 days, 1000 miles and across six countries to his home town of Linz, Austria – to support young people in Africa look forward to bright futures.
Sponsor Erik 1p for each mile he pedals at www.justgiving.com/fundraising/eriksjourney
He will be sharing regular updates on his Instagram profile @eriksjourneyyy, these will be shared on Tools for Self Reliance's Facebook page and  here on the blog!
1 September 2019 – Day one
And… he's off!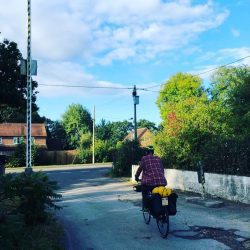 Erik left Tools for Self Reliance at 8am on Sunday to begin the first 30 mile leg to Portsmouth on Sunday 1 September. He arrived to blue skies by the seaside!
Day two – Portsmouth to Brighton!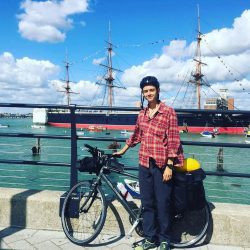 Day four – Erik is on his way to Hastings!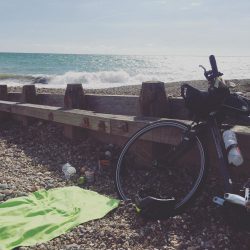 5 September 2019
Erik has reached Dover! From Portsmouth he travelled to Brighton and spent the evening with Rotaract friends sharing a meal and playing Jenga. Before he cycled to Hastings and onto Dover!
He has encountered sheep, cows and soaked up the coastline as he made his way East before he catches the ferry this weekend to France.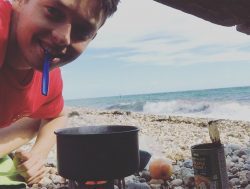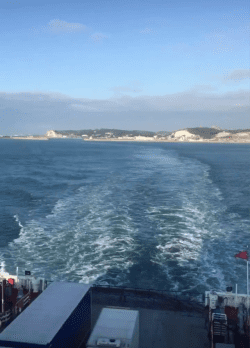 On Saturday morning Erik waved goodbye to the UK and caught the ferry from Dover to Calais to conclude the first week of his 1000 miles cycle home.
17 September 2019   
Erik has just said goodbye Brussels – he found it to be a diverse and welcoming city ! His next stop is Amsterdam(by train). At the end of the week he will be making his way to Oberhausen, Germany.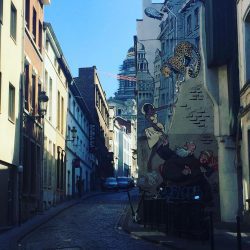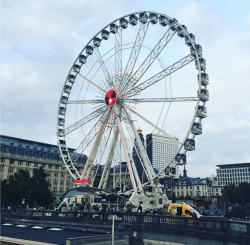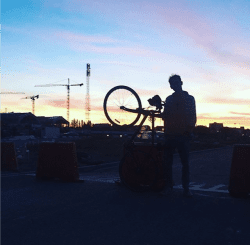 18th September 2019
Erik has arrived in Amsterdam!
20th September 2019
Erik has left Amsterdam and had a great time exploring the city by bike, including a visit to the Van Gogh museum.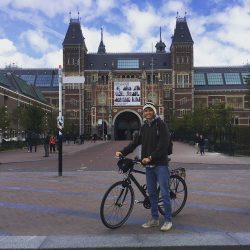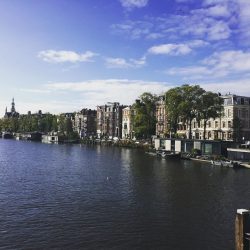 26 September 2019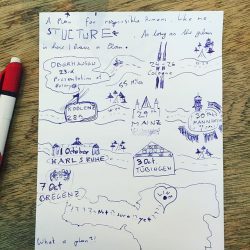 Erik has arrived in Germany! On Monday he gave a talk to Rotary Club of Oberhausen.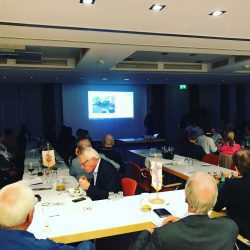 On Instagram he shared "I have a plan and a few impressions from the previous days  arrived in cologne today"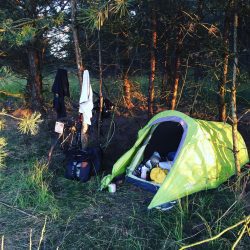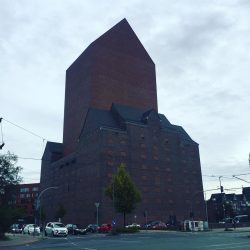 30 September 2019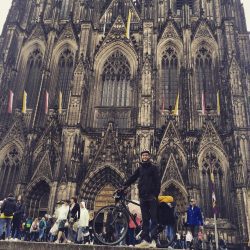 30 days in to his cycling adventure home and he is in Cologne, Germany
"Spent a few days in cologne ! 🚴🏻‍♂️ now on the way to Karlsruhe not enough internet to show you more."

Thank you to everyone who has sponsored Erik on his epic journey home – if you keep meaning to and haven't already there is still time to cheer him on 👉http://bit.ly/Eriks_Journey
5 October 2019
Erik will soon be in Austria! He has shared some photos from last week.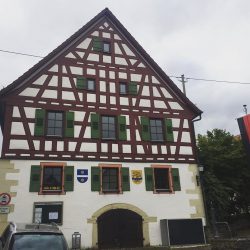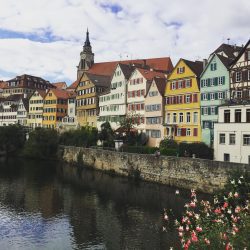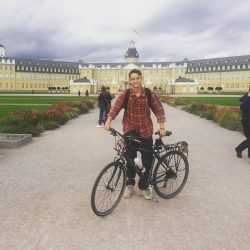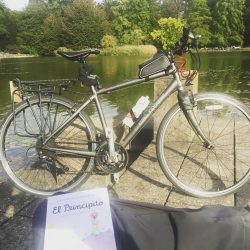 Hello! Here's Yvonne for the last time, our projects are going to an end now. Lilian already started her journey back home, Erik stays a bit longer and tomorrow is my final day at Tools for Self Reliance. But I think we all made the best out of the previous weeks.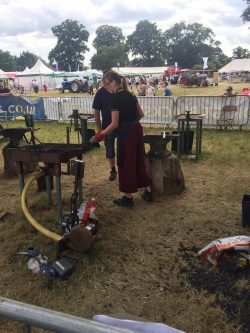 I had the chance to visit Ilfracombe with my diving club. After a concert from a Swedish rock band, swimming in Woolacombe and hiking in Lynton we went diving with seals. We had luck to see quite a few and they were also playing with our fins. It was a very varying weekend and it was great fun.
A week later Lilian and I made our last trip together to Manchester where we watched the final tour of Kiss. It was an incredible concert and overall an amazing trip with much food, tea, shopping and walking through the city.
So I had a great ending of my time in the UK. I spent my last working day at the New Forest Show where I got shown how to be a blacksmith by making a leaf by myself and next weekend I finish the year with a festival off. The months just passed too fast and I'm glad about every moment I got to enjoy.
My favourite thing about the UK is that so many people have a great passion for steam engines and old vehicles.
18th July 2019
Hey guys! This week I (Erik) was off from work and enjoyed a little roadtrip through wales and the UK.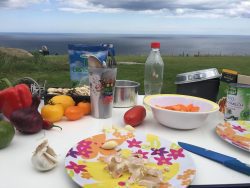 My friends came from Vienna with their van to visit me and explore a bit of the UK. We started our journey in Wales nearby Newport on the coast of north wales. Then we went on, heading north to have a hike on mount Snowden which was amazing although I haven't witnessed so many people walking on a mountain so far. Afterwards we drove to a campside in the Lake district which was a really relaxing place for swimming, reading, cycling and things like that. From there we crossed Yorkshire for staying two nights in an amazing campside nearby Whitby, where we saw a blood moon on Thursday while having a lovely bonfire.
Another thing was the cooking with this never-ending wind gusts. Last but not least we ended our trip with two days of sightseeing and partying in London. Besides I discovered the camping life and its pleasures for me. The independence you have with a campervan is just amazing and I hope I will be able to afford one soon.
My favourite thing in the UK is that the people drive much more respectful and give way a thousand times more than in any other European country I have driven so far.
4 July 2019
Hello, my name is Lilian Steinmetz and since October I have volunteered at Tools for Self Reliance in Netley Marsh. My project ends on the 30th of July so I sadly only have a couple of weeks left. The last few weeks have been very busy but also extraordinary. I went all by myself to the Isle of Wight Festival to volunteer there and except of some rainy hours I had one of the best times so far.
After that my friend Yvonne and I went to a Bon Jovi concert in London in the Wembley Stadium which was totally filled up. I think I've never seen so many people waiting for the tube ever. My special highlight was my friend Sophie visiting me from Germany and I really loved showing her Tools for Self Reliance in real live after telling her everything on the phone. We even got to show her an original Cream Tea organised by our mentor Jim. I was sad that she left so early but we were all quite busy with preparing for the New Forest Folk Festival which was great fun. Together with Jenny, Roy, David and Stuart we had lovely sunny days and enjoyed selling the tools while listening to Irish folk music.
Now I'm very looking forward to Tea for Tools on Wednesday 10 July. Time is flying by and I'm really sad to leave on the 30th.
My favourite thing about the UK is that even with bad weather you can have the greatest time.
20 June 2019
Hi everyone!
The weather didn't mean it really well with us last week but that was no reason for me to not go to the Download Festival in Leicestershire.
I spent my time there working as a volunteer where my job was to be on top of a fire tower and have a look that everything's alright and also to help other people where it was possible. It was quite interesting to watch the people wrestling in mud from up there throughout the day.
Next to work I also had a great time with the new people I met. Not only was it possible for us to see our favourite bands but we also had our own big marquee and hot showers which were the light on the horizon of the cold and rainy days. So we had great fun sitting together in the marquee playing cards against humanity and talking with each other. If we were looking for more action we headed off to the bands and did headbanging the whole night. It was just a stunning week I got to experience and I'm glad I got the opportunity to volunteer there.
My favourite thing about the UK is the different dialects people are speaking.
6 June 2019
Hey guys!
For the new ones, I am Erik one of the European Volunteers at Tools For Self Reliance. Since my last blog update our garden proliferated. The sun is showing up more and more although we are still waiting for the  30 degrees my Austrian fellows currently enjoy.
I cant believe its that I am already 8 months at Tools For Self Reliance. Times running. Nevertheless, I enjoy every day at Tools and become constantly more confident. Stuart, the workshop manager gives me a lot of freedom for my tasks which makes motivates me even more. Last week Kevin and I started to set up a PAT database when we test appliances in line with current legislation. Getting involved in this is really cool.
We have set up a station where every electrical-tool that leaves the building will be recorded. Next Step will be the shelf for the spare-parts which I am looking forward to build.My favourite thing about the UK is Brighton.
23 May 2019
Hi, my name is Lilian Steinmetz and I'm 19 years old. Since October 2018 I work as a volunteer at the charity organisation Tools for Self Reliance.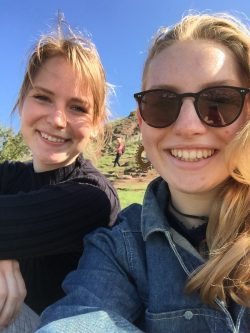 At the beginning of May my colleague and good friend Yvonne and I went off to explore a little bit of beautiful Scotland. The journey itself was quite an adventure because we travelled by coach which took us almost 12 hours. We were very excited and so happy when we finally arrived in Glasgow, our first destination. Because of the arrival so very early in the morning we searched for a nice place to have breakfast and a good cup of coffee or hot chocolate. This nice place we found, called Kamber & Jones, became I our favourite spot in the next 4 days between all the sightseeing and shopping. Glasgow offers a wide range of cultural activities and really impressed us in its own special way. We've been to various museums and to the University campus. Our next destination was Inverness where we spend three days in a very extraordinary and lovely Air bnb. It was set up and equipped like a Japanese Tea house build by a dedicated elderly man who told us a lot about his interesting life story. While our stay at Inverness we went hiking. We walked so much that our feet could do nothing more than just rest in the evening and we wished we had brought some blistering plasters with us. Although it was very cold during the days, we had mostly sunshine and we simply fell in love with the beautiful landscape around us. Our last Scottish destination was beautiful and historic Edinburgh. We enjoyed the  sight and atmosphere of the amazing buildings and the Harry Potter flair of the capital. We hiked to Arthur's seat and visited lovely spots like the Grass market and the meadows. We were so happy in Scotland that we tried to miss the coach back home which sadly failed…
My favourite thing about the UK is the changing landscape.
9 May 2019
Hello!
The last weeks were really exciting because my parents, two aunts and an uncle were visiting me over Easter.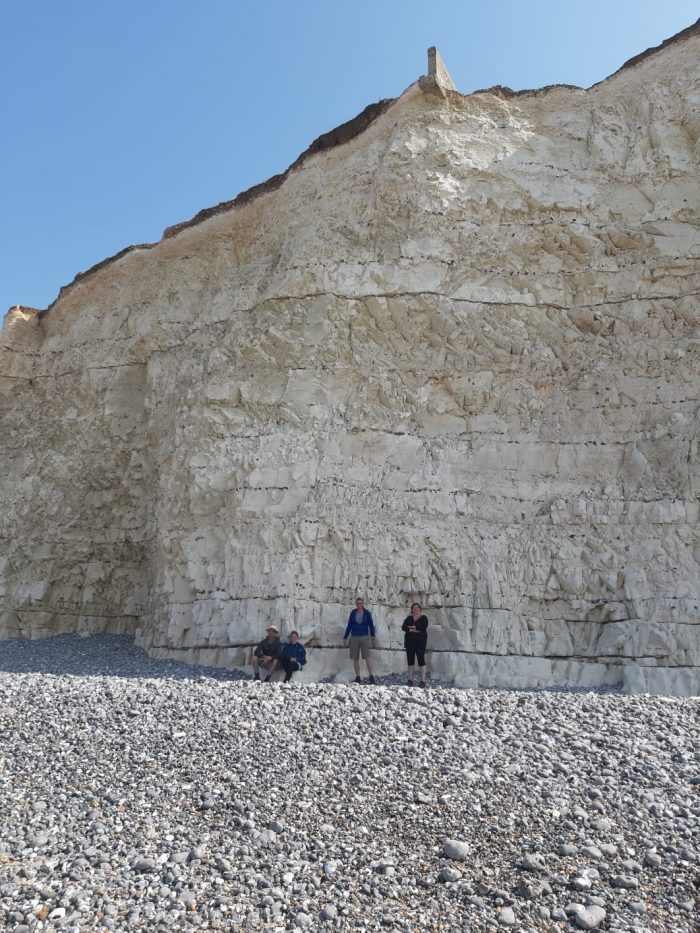 We did a lot of things in this time. It began with hiking on the Jurassic Coast from Abbotsbury to West Bay. I would say this was my favourite day. We just had a great time talking with each other and enjoying the sea and landscape. Afterwards we relaxed at home with nice weather and BBQ.
The next days were getting more busy. We visited Bristol and Bath shortly where we went to flea markets, visited the roman baths and cathedrals, and just walked around the cities.
We also had a look around the stone circle in Avebury, made a trip to Stonehenge and went hiking on the Seven Sisters. The last two days we visited London, because my aunts and my uncle have never been there. For me the best part of this was the Van Gogh exhibition. But I think we can all say that we liked the rest of the UK more.
All in all we had a really great time. It was interesting, we learned and saw new things, and it was just fun. We did many different things but we still had time to just sit together, talk and laugh. I'm glad they all visited me!
Yvonne
My favourite thing about the UK is the difference in landscapes, architecture and also in the atmosphere you can see from place to place. 
25 April 2019
Hallo everybody!
The last month I was working on several project apart from preparing the Zambia shipment like building a shelf for the workshop and also for Robins Nest which was great fun.
Surprisingly the weather was not April-like so we were able to enjoy some of the breaks outside which has definitely a noticeable effect on my and other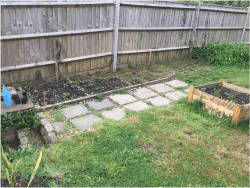 peoples mood. Not only we benefit, also the plants start thriving which I never witnessed like that before. The reason for that is that I planted a garden for the very first time rather than just enjoying the efforts of my mum and dad back in Austria. It is just amazing to see all sorts of vegetables and herbs growing day by day. I have planted three types of potatoes including; Arran pilot, Foremost, Red Duke of York, onions, lettuce, coriander, chives, thyme, tomatoes, peppers, radish, strawberries, asparagus and marigolds.
Luckily, some of our volunteers gave me tips on how to do it and what to care about. It surprised me how much effort it is to maintain a garden and also the knowledge behind it. I read a few things about companion planting which I will try and hopefully I get rewarded in a few months.
Erik
My favourite thing about the UK is our house at Tools for self-reliance.
17 April 2019
Hello, for everyone who hasn't read my first Blog, my name is Lilian Steinmetz, I'm 19 years old and primary I come from southwestern Germany.
Since October 2018 I live here in Netley Marsh and I ́m very happy to be a volunteer at Tools for Self Reliance.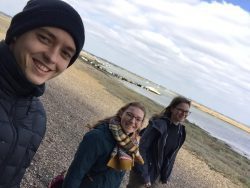 Last weekend my friend Erik and I went to Aberystwyth in Wales to join a Rotaract event. It was great! Not only because we had great weather and visited our friends, but it was amazing to see a bit of wales. While we were sitting seven hours on the train, we watched the landscape passing by. At almost every meadow there were flocks. Particularly the baby sheep melted our heart and we wanted to take them home with us.
In Aberystwyth itself we walked with our friends and Rotaract members along the seaside and the view was stunning! It looked a little bit like in a farytail. We heard a very interesting lecture about dementia by our friends father Dr. Voller who is like Eric and Yvonne also from Austria. At the end of the day we joined a very funny wine tasting which got even more fun the more wine the guests had.
My other friend Yvonne showed me, when we were back at work how to refurbish a treadle machine. This was great because she was taught by one of the volunteers and this was an opportunity for her to show someone else her knowledge about it. We had a lot of fun sitting in the woodwork shop and I learned so many new things!
28 March 2019
Hello! Here's Yvonne again. In the last few weeks many things happened. We had a Haberdashery and Tool Sale, got a new shipment to prepare, had a presentation skills training and a volunteer took us out for afternoon tea. But my highlight was that I finished my first table as part of my personal project.
I made a new table out of a treadle machine which dates back to the Victorian era. The base got cleaned and oiled but stayed basically the same. I made the table top out of three different original tops. I cut them all in different pieces, prepared them and glued them together so that a pattern was visible. Afterwards I sandpapered it, waxed the surface, and screwed it on the base. After over two weeks of work it got a place at Robin's Nest Emporium in Southampton and will hopefully find a new owner soon.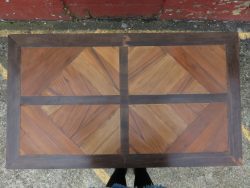 It was a nice opportunity for me to give the treadle a new life before it gets thrown away and I just hope someone will have such a big joy as the former owners had.
My favourite thing about the UK is the happy faces of the people when spring is coming.
14 March 2019
Hallo Everyone! For those who are new, my name is Erik and I am from Austria.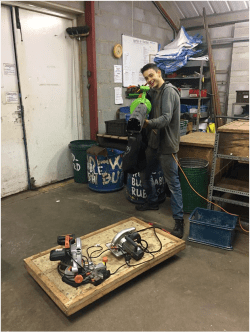 This month was rather relaxed for us Volunteers because we still have a few days left before we can start preparing the Zambia shipment. Apart from our daily routine tasks which include the PPE & LTE checks on Monday, receiving donations and emptying bins we are free to choose on refurbishing whatever we want to. Therefore, I addressed myself to electrical tools which became my favourite type of work at Tools for Self Reliance. Slowly but steadily I get a routine on some issues like replacing the plugs or faults that are likely to occur on particular tools. Although it is still sometimes overwhelming how much you have to know to see through these devices even though most of the tools are a bit older. Luckily, I can always ask the other volunteers.
The work also includes not only refurbishing the power-tools, but also testing them before we decide whether they go to the Africa stock or for one of our tools sales. Sometimes I get really surprised by the tools that come in. Here's an example. By the way make hoovers not war!
My favourite thing about the UK are bourbon biscuits.
5 March 2019
My name is Lilian Steinmetz, I´m 19 years old and primary I come from southwestern Germany. Since October 2018 I live here in Netley Marsh and I'm very happy to be a volunteer at Tools for Self Reliance.
The last two weeks have been very busy, because we finished our second big shipment to Ghana. On Monday we loaded all the ten pallets full of tool kits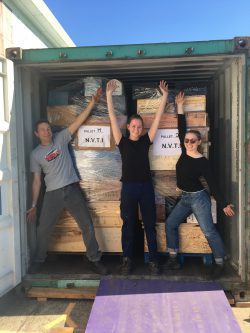 and sewing machines into a big container, which was really hard work. But in the end we were really proud that we finally made it!It is a great experience to be part of such a good and friendly team. I really appreciate this. I think it´s wonderful that our work supports others and at the same time it gives me such personal benefit. I must admit that the British winter weather is a challenge for me from warm southwestern Germany. The more I enjoyed the beautiful weather which surprised us this weekend. Daffodils and crocuses are starting to show their beauty and I'm very happy
that it gives me the opportunity to spend time with gardening, which is one of my favourite hobbies.
Last Saturday when I walked through Winchester it was so warm, that I saw young people wearing only T-shirts and hot pants. I love this time of the year, when spring seams to come and the world shows itself in such colourful and blooming way.
My favourite thing about the UK is the great team spirit and good and obliging attitude one can feel in places like Tools for Self Reliance.
14 February 2019
Hello!
My name's Yvonne Hoffmann, I'm 20 years old and I'm from Austria. Normally I'm used to heavy winters but I came with the expectation to the UK that I won't see any snow this year. But on the 31st of January it happened right in front of our eyes. It was snowing.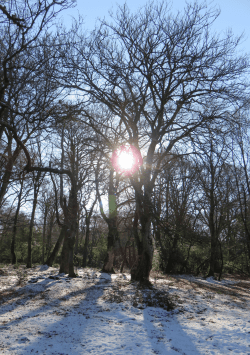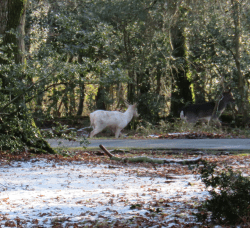 It began to snow in the evening and it continued the next few hours. Surprisingly the snow stayed lying on the ground for the next days, where I experienced a perfect day. I went out for a walk in the New Forest and just enjoyed nature with the trees, the sun and the snow. Suddenly a deer was standing in front of me and looking at me. After some seconds he ran away and I saw that he was in a group of 7 deer. I was totally flashed when I saw that one of them was white. He looked totally majestic with his big horns when he jumped over a fence.
I couldn't get enough of this view, it was just perfect.
My favourite thing about the UK is that you can always get surprised by nature.
1 February 2019
Hello,
My name is Erik Schmidt and I am from Austria (Linz). I am 22 years old and I moved recently to Totton to volunteer for Tools for Self Reliance. In the last two weeks we were preparing toolkits for the next shipment to Ghana. Apart from that I was able to gain some experience in repairing and assessing power tools.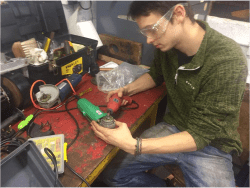 This week we ran out of angle-grinders which we desperately need for the welding kits which go to Ghana . Hence, Kevin, one of the volunteers showed me how to refurbish angle-grinders. On the following picture you can see me adjusting the spindle of an angle-grinder. It was to first time I was not only replacing parts, but also fixing existing parts of a power-tool. Although it took me hours to fix it, eventually I made it work again. That was a great achievement for myself. Now I am even more eager to know, on how electrical tools work. Earlier I might have resigned sooner after detecting flaws but now I can proudly say that I slowly but steadily learn how to approach problems with more patience and overview.
My favourite thing about the UK is that the people are really open.