Celebrating over 30 years of support
It was a real treat to catch up with our voluntary groups in Clun and Bridgend.
Volunteer Coordinator Ben Riley was delighted to be able to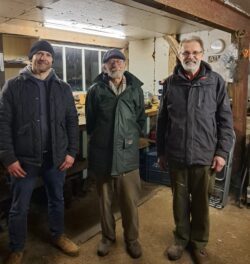 recognise the efforts of Clun group coordinators
Dave Thomlinson (pictured right) and his wife Liz Egdell.
They were both given certificates at their AGM in November for 30 years of voluntary service.
We were delighted that the group also awarded John Riley (below) a billhook manufactured by 'John Riley' for his efforts as a volunteer collector since 2003.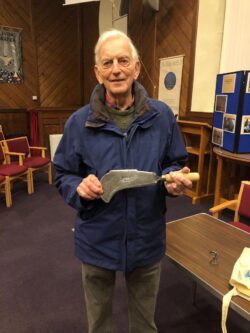 He has even donated his gift back to the group so they can sell this!
Liz and Dave set up the Clun group when they heard about Tools for Self Reliance on the radio in 1992!
The group has been going strong since then, even raising over £12,000 in the last 3 years. They also prepare donated tools for tool kits and sell these locally for funds.
The Bridgend group (below) have also been a stalwart of the volunteering groups and it was a pleasure to meet the committed team there who are also crucial in sending out tool kits to our projects and continuing the funding of our work.
A huge thank to these two groups and all our groups who support our work. We simply wouldn't be where we are without you.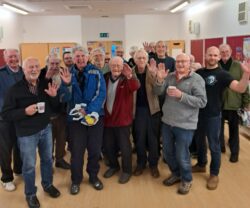 Where we work