On 10th August 2022 Tools For Self Reliance Bristol Group celebrated its 20th Anniversary!  CEO Sarah Ingleby, Workshop and Site Manager Stuart Bailey and Volunteer Co-ordinator Ben Riley took a trip from Netley Marsh to the West Country to honour the occasion.  Here we take a quick dip into their archives to recall how the group came into being and celebrate their achievements.
A potted history of the Bristol Group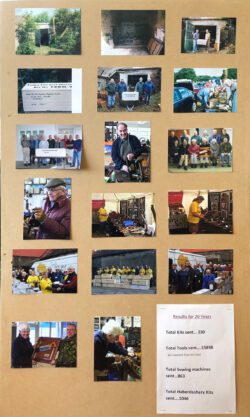 It started twenty years ago with just one man, Maurice Weekes, collecting tools and taking them to the Holt Group on a regular basis.  Then one day, a chance meeting between Maurice and Rodney Stone (an associate of the local heritage Museum) led to the establishment of a new Bristol collecting group, operating from one of the Museum's outside store rooms.  With help from Bob White, who was based at Netley Marsh, the group managed to produce their first tool kit in August 2002.  It was a small Joinery Kit containing 21 tools destined for Zimbabwe.  A year later, the group had grown to 4 members and produced their second kit, this time for Sierra Leone.
From 2005 onwards the sewing machine restoration area and the production of haberdashery kits grew in capacity.  Group member Mervyn Bishop became one of the leading experts in sewing machine restoration and also in the sale of specialised machines.
They delivered their 50th tool kit to Netley Marsh in 2009.
In those early years, two small work sections were set up in Museum's back area, one on the ground floor for sewing machines and haberdashery, and a small upstairs workshop for tool refurbishment and kits.  All the tools and the kit boxes had to be carried up a flight of stairs, whilst the completed (and very heavy) kit boxes, then had to be carried back down again.  It was a great relief when later on a stair lift was installed which the kit boxes could be rested on.
By 2011 the group had increased again – to 12 members – and was outgrowing the workshop space.  The upstairs area was closed and everything was relocated to a larger downstairs workshop with greatly increased bench space and a specific machinery room set up to contain the noise and dirt.
Income and capacity were also increasing.  Under the guidance of Tracey Morris and Shelley Wright, in 2011 the group raised over £1,000 in tool sales at the Bodgers Sale and over £1,400 at the Oak Fair.  And over the next four years, Tracey and Shelley were instrumental in instigating greater cohesion between the South West groups.  By working together, sharing knowledge as well as tools, the groups were able to increase tool collection and refurbishment activity.  The overall output during these 'boom years' was phenomenal, delivering to seven different projects in six countries, 125 kits including over 6800 tools and raising just under £50,500.
In 2015 the workshop was expanded again and became a shared asset with more benches, machinery, and dedicated work areas.  A change of Museum ownership meant the group had to take up a paid lease.  Soon they shared the space – and the rent – with the local 'Men in Sheds' group, a ladies woodwork group and a glass craft class.  The need to pay rent, which was unusual for a TFSR group, meant focussing on income generation.  Various initiatives were launched, including vintage and specialist tool sales at local events and on Bay.
Following the boom years, a smaller but steady kit output continued, always with dedication to high quality tools, each independently checked before being packed for delivery.  Today, the group specialises in the production of the larger training kits and continues to send a steady flow of monthly funds direct to Netley Marsh from targeted eBay selling.
Maurice, Rod and Mervyn went on to steer the group for many years as Chairman, Secretary and Treasurer.  Maurice was very actively involved in kit production as our chief saw sharpener right up to his death at the age of 93, in late June 2022.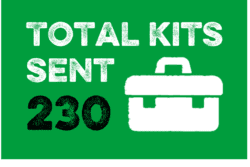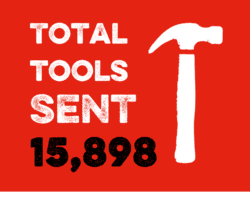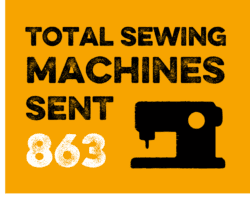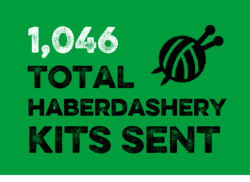 Twenty years of Tools
From humble beginnings, the Bristol Group has become an impressive hub of activity.  They are one of the most successful regional groups in terms of fundraising activity, having raised an incredible £92,000 in funds in the last 10 years!  Activities have not been widely publicised but over the years great working relationships have been forged with all the local rotary organisations, many local churches and of course the continued links to local groups and charities.  Likewise, whilst they have never actively advertised for volunteers, the group has always been sought out by like-minded individuals wanting to get involved.
Presenting certificates to the group volunteers on 10th August, CEO Sarah said "We are honoured to have the long-standing support of many of our volunteers and for the Bristol Group to celebrate this milestone is an immense achievement.  Tools for Self Reliance is very much the sum of our parts, and our work would simply not be possible without the support of our volunteers across the country.  I am thrilled to extend my thanks to our Bristol Group".
We are hugely grateful to all our volunteers, and for the commitment the Bristol Group has shown over an incredible twenty years of support.